Tourism
Completed projects
Digital asset management
Digitization of museum sites. Creation of a platform that allows the digitization and management of artworks, which can be cataloged with a complete historical tracing. To allow the updating, or the insertion of new assets, the platform makes available different profiles depending on the role in which the user is recognized by the Manager. The platform also provides access to control the museum site and the possibility to perimeter each intervention in a specific area of ​​the site.
Contract management and touristic offer
Creation of a web portal that centralizes the offers and the peculiarities of all members in order to catalyze quotes requests and business contacts. Implementation of the blockchain in a second phase for the certification of incoming data (commercial prospects) and the automation of the algorithm which identifies the most suitable offer based on the parameters required by the user.
Smart mice platform
Analysis and feasibility for the development of a web platform for tourist facilities such hotels or locations for events. Analysis of the advantages that blockchain technology might bring to the business model in the tourism sector and analysis of possible technical implementations.
Find out more
Download our
company presentation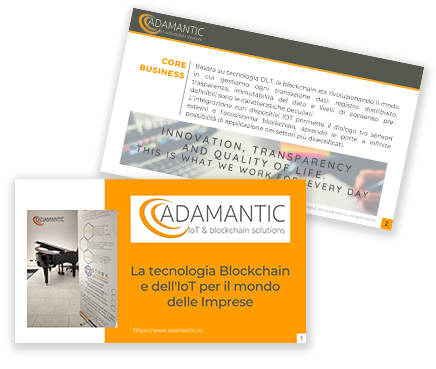 References
What they say about us!


Thanks to the technical support of ADAMANTIC and the inputs they have been able to provide us, we have created a platform capable of fixing the performances of the artists in a unique digital work of art, certified and written in blockchain with an NFT created in real time during the exhibition. A-Live is the first platform in the world to make NFT in real time and we are proud of it.


Grazie al supporto tecnico di ADAMANTIC e agli input che hanno saputo fornirci, abbiamo creato una piattaforma capace di fissare le performance degli artisti in un'opera d'arte digitale unica, certificata e scritta in Blockchain con un NFT creato in tempo reale durante l'esibizione. A-Live è la prima piattaforma al mondo a farlo e ne siamo orgogliosi.


Avv. Francesco Cirillo / AD Fortnes
With the support of ADAMANTIC, we have embarked on a path of innovation applied to our industry, that of debt collection. We are confident that their expertise and our industry experience will make all our processes more efficient, faster and safer.


With the Adamantic guys we are carrying out a project that will allow Mnemonicato make a big technological leap on competitors. By opening up to blockchain services, we are entering the future of intellectual property management.


Certified beer in blockchain? It is the perfect combination of technology and the real world and Yhop can only toast to this union! Also because with the guys of Adamantic we are having fun like crazy!


Alan Advantage has made intuition and experience a winning weapon on the market. With Adamantic we are proud to see today confirmed the potential that we had identified since their birth. Ad maiora!


We have known the guys of Adamantic for a long time and with their professionalism we are sure to bring our healthcare services for insurance to a cutting-edge technological level for the benefit of our end users. Go ahead then!


With the blockchain, a new scenario opens up. For the services that Greenvulcanooffers on the market, Adamantic is a strategic ally and a friend, certified!


Professionalism and expertise have allowed EAI Software to ride the market for twenty years, we know how to recognize them and we are happy to collaborate with Adamantic and open our corporate offer to blockchain technology.


The content behind the image is what Hueval intends to bring in its offer to customers, with this philosophy we immediately found ourselves in tune with Adamantic and together we hope to achieve ever greater satisfaction and goals. Thank you all and good job.


With Adamantic an excellent collaboration relationship on research and development was born. IoT solutions, and specifically GIS services, will have much to gain from blockchain technology if applied with criteria and experience. Thanks guys!


To expand the business you need to develop management and innovation skills in the working group. The Adamantic team is the perfect partner to introduce technical and business innovation to the company. They are very open-minded and are bringing the highest quality skills to the Hub.


We are sure that blockchain technology will soon bring a revolution in many sectors, with a radical change in the "rules of the game". Adamantic, in order to offer an excellent service, uses a law firm specialized in computer law, to solve all the legal problems related to IT platforms of this type.


ATON Informatica starts the collaboration with Adamantic, we look at the prospect of common future successes with determination and enthusiasm.


With ADAMANTIC the meeting was at the BLOCKCHAIN FORUM in Milan and it was immediately clear that our paths could converge. From there began a valid collaboration thanks to which our skills, united, will allow the Associated Commercial Studio Teofoli & Moriconi to position itself differently from its competitors. By opening blockchain services to our clients, our Studio enters into the future of business process management.
Contact us in the way you think is best