About us
Chi siamo
La tecnologia DLT, Blockchain e dell'IoT per il mondo delle Imprese.
+20IT years in IT world
Research and development on technology make ADAMANTICa leader in enterprise solutions.
Core Business
Based on DLT technology, blockchain is revolutionizing the way we handle every data transaction: distributed ledger, transparency, immutability of data and pre-definable levels of consent are the peculiar characteristics. Integration with IOT devices allows dialogue between external sensors and the blockchain ecosystem, opening the door to endless application possibilities in the most diversified sectors
Mission and Vision
ADAMANTIC, an innovative startup, offers solutions that make the use of DLT technology at enterprise level fluid and fast. Since 2017, it has translated the adoption of blockchain in all business contexts into a simple and secure way. In addition to more "traditional" technologies, ADAMANTIC develops blockchain and distributed ledger projects, IoT, Machine Learning, Business Intelligence and Enterprise Integration.
Best Pratices and Enterprise Solutions
ADAMANTIC has consolidated references in blockchain technology, on various project verticalizations with proprietary customized solutions for enterprise. Each product sector boasts different possibilities to make the most of the peculiarities of technology, starting from its objectives and market challenges.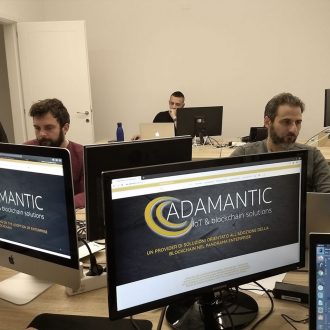 ADAMANTIC has a staff of 15 specialized resources , involved in the common passion for research and development in the Blockchain field and operates from the headquarters in the Prati area in Rome, Switzerland and at the Naples Business Center.

For over 20 years in the IT world, with a special area dedicated to the Research and Development of high-performance technologies and innovation, we have carefully selected senior developers and designers who can give free rein to their passion for the practical application of the latest technologies in a young environment with strong enterprise skills.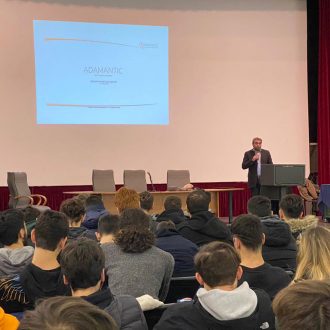 Inserted within an industrial ecosystem, ADAMANTIC is strongly committed to high-profile dissemination and training activities. It has leading partners in its reference sectors, which guarantee a complete offer at the highest levels of the market.
Out success is made by people
Our Team

Pierpaolo Foderà
Co-Founder & CEO
Expert in Management and Business Strategy, with many years of experience in key positions at large companies. Lecturer in various editions of the Master Lab in Blockchain Technology & Management of Ateneo Impresa and active member of the main IT and blockchain associations.

Domenico Barra
Co-Founder & CTO
Expert in Enterprise software architectures, Blockchain technologies and in the processing of large amounts of data. H2020 Research and Innovation Expert for the European Commission. Lecturer of the Master Lab "Blockchain Technology & Management'' of Ateneo Impresa.

Mauro Andriotto
Partner
Founder and President of Andriotto Financial Services and EDSX. He is internationally recognized as a leader in the STO and Digital IPO industry. Professor at SDA Bocconi, University of Pisa and University of Genève – UBIS. European Commission.

Alessandro Ghiani
Blockchain Lawyer
Cassation lawyer with specific experience in legal advisory for blockchain, cryptocurrency, NFT and metaverse projects for companies and startups. Visionary, innovative startupper and evangelist of the subject, he is the Founder of Bloc Digital Law&tech, Expert on the subject at the UNINT University.

Francesco Albanese
Head of Program and Delivery
Expert in the management and delivery of IT projects in the Enterprise sector, with many years of experience in management consultancy with international clients

Luca De Castro
Development Team Director
Full-stack developer, particularly prone to challenges and to deal with new technologies.

Giorgio Francolini
UX/UI Director
Architect and Designer, for over 10 years develops in the web field mainly on Front-end, UI and UX combining aesthetics and functionality with creative approach.

Joseph Aguilar
Software Engineer
Senior Software Engineer with 8 years of experience.7 awards and participation in 20+ hackathons/start-up weekends.

Alessandro Barra
Software Engineer
DevOps, passionate about platforms and systems, with a preference for cross-platform development.

Davide Palluzzi
Software Engineer
Young developer, passionate about new technologies. Expert in Java and Angular. Highly motivated and enterprising thanks to his long experience as a scout educator.
Antonio Cutrì
Software Engineer
Enthusiastic full-stack developer, with an inclination towards back-end technologies.

Matteo Maria Urbinati
Software Engineer
Graduated in Social Communication Sciences with a focus on coaching and more generally on neurosciences applied to marketing and human relations, passionately follows and studies the innovative evolutions of technology, aspiring front-end developer

Gennaro Di Micco
Marketing and Communication
Expert in Web Marketing, Social Media Strategist with a great passion for technological innovations. It has helped many companies, in different sectors, to have a strong identity on the web.

Francesca Di Lena
HR & amministrazione
I deal with the management, selection, training and development of a company's personnel and I manage the accounting process. I am determined and the many experiences I have made have led me to have a 360° view of the job.

Antonella Cennamo
Marketing and Communication
She manages planning, coordination and creation of the contents of company channels and internal and external communication strategies. She collaborated with various publishers and web portals for content creation and management, writing and editing, digital strategies and training.

Cristina Teofoli
Innovation Evangelist
Chartered accountant and auditor. Expert in coaching, business, innovation and financial analysis.

Deborah Sgrò
Marketing & Sales
I have dedicated the last 25 years of study and career to marketing and communication, technology and sociology operating in many different markets – media entertainment, politics and culture, gaming & betting, insurance and finance etc. Today being with Adamantic means helping to build the future!